A Smarter Way to Compare the Price of 3D Printers for Orthodontics
If you are looking to buy a 3D printer, you may feel overwhelmed by the abundance of choices on the market and these companies will engage in all kinds of smoke and mirrors to justify overpaying for a spec sheet that is the same as other printers so buyer beware. Without getting into all the nitty-gritty of 3D printing just yet (we will be doing a deeper analysis on the various types of 3D printers and printing software in future posts), I wanted share the most effective means of evaluating the true upfront costs of any 3D printer, which is to consider it's price as a function of hourly or daily throughput. 
When you are operating at scale like an orthodontic lab, the overall speed of the individual printer is actually not that important because you will be batching prints and incorporate a lead time into production. You can set up a print farm with smaller, cost-effective 3D printers that has built in redundancy in case a printer breaks and a larger overall capacity than paying the same amount for a more expensive, "faster" 3D printer.  All 3D printers currently operate at build speeds that allow for same day delivery, so this argument is a red herring. Additionally, 'slower' printers with larger build platforms will perform better with daily throughput because they will continue to work overnight.
By examining the cost of printers in terms of the investment required to achieve a certain level of hourly or daily throughput, you'll have a much better sense of the capacity you are purchasing. You can look at a quick cost comparison of commonly available models on the orthodontic market below: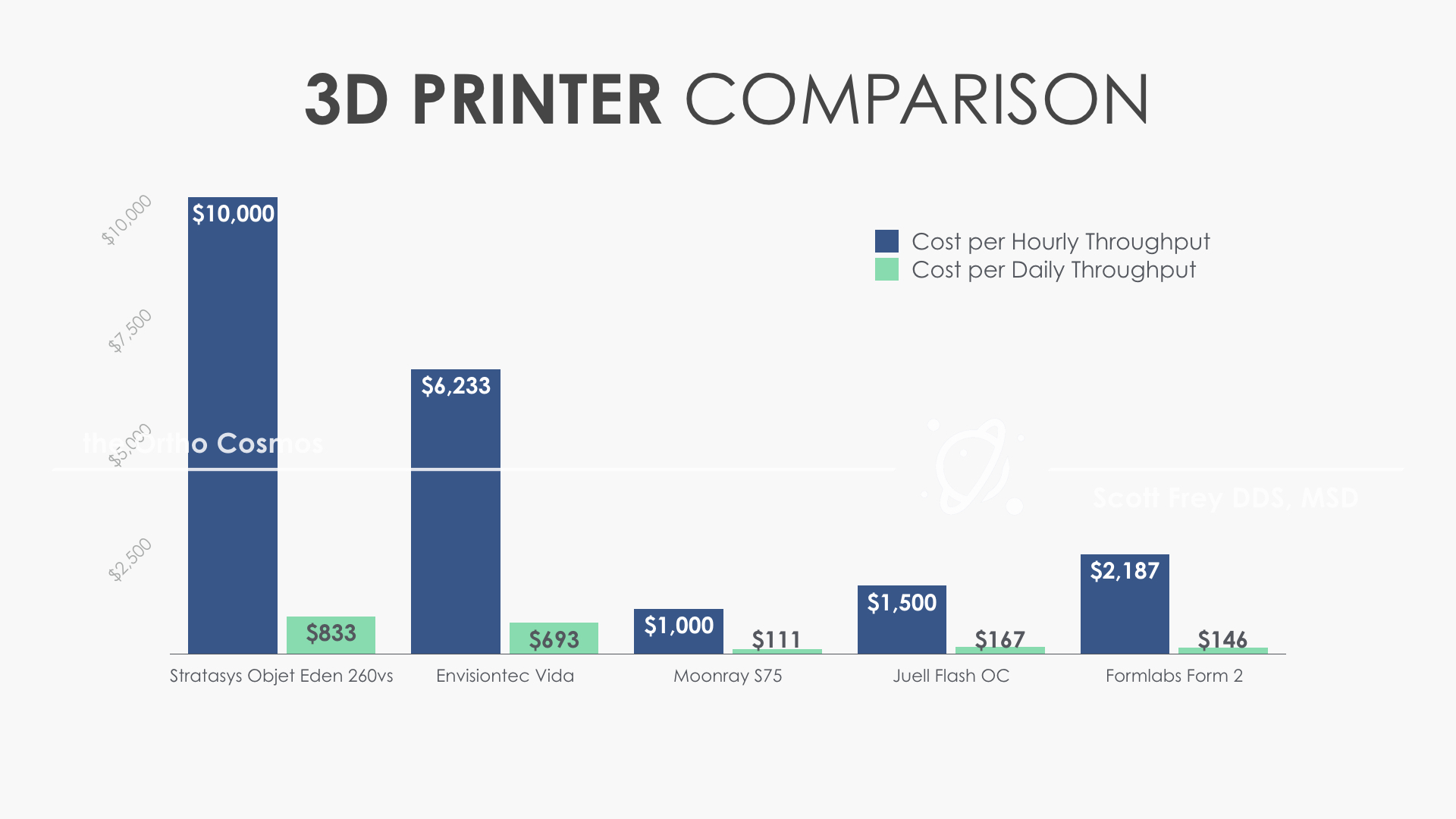 Hopefully, this information allows everyone to start onboard this technology in a cost effective fashion so it can start benefiting your patients!