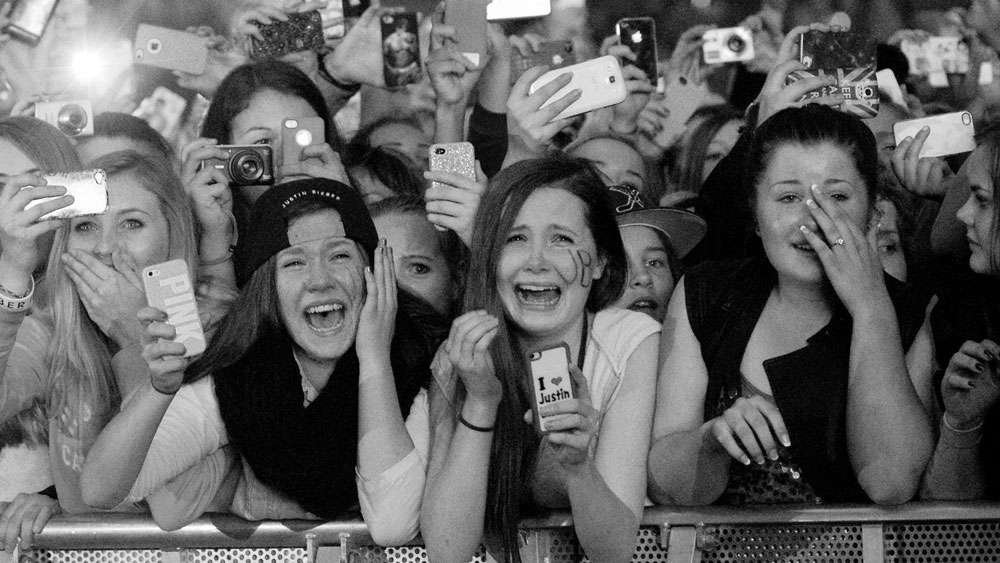 A "groupie" for most of us is someone who is obsessed with a particular band and follows them on tour. Some of you reading this may relate to being obsessed with a particular band in your high school or college days!
However, if you look up the definition of groupie, you will find that Webster's dictionary also defines a groupie as an ardent fan of a celebrity or of a particular activity.
Wouldn't you love to have "Doctor X or Practice Y" groupies?

Of course you would!
I know you are thinking that it could be a bit "creepy" to have patients be that "obsessed about their dental health…or about your practice…but really would it be that bad to have say 20% of your practice be these "ardent fans?"
Of course not!
Several Christmases ago, we hosted a group of college students (friends of my daughter) on their way to Lake Tahoe for a 3-day concert called "Snow Globe."
This event takes place outside in December in Lake Tahoe, so you can imagine it is quite cold and snowy.
I love outdoor concerts as long as it is balmy and I can wear jeans and a t-shirt. The idea of being outside in "freezing" weather and paying for it, just does not appeal to me.
However, my daughter and her friends are official groupies of several "Indy" bands and will travel and even endure less than ideal weather conditions to listen to these bands play for hours or even days.
The entire concert for 3 days is outside. Yes, outside at night when it gets even colder in Lake Tahoe. Typical temperatures will be in the single digits in the evening, just to give you an idea how cold it can get!
Of course this did not stop my daughter and her friends from standing outside to listen to their favorite bands play well into the evening.
Bundled up with as many clothes as possible and hand and feet warmers, they bared the elements because they are "ardent fans" of these bands and I believe they would endure sub –zero temps to listen to them play.
Another concert venue, last April, in Palm Desert California, my daughter and her friends attended what is known as Coachella. Again another 3 day concert, this time in a "hot zone" where temps during the day reach over 100 degrees and there is no shade, just dust and tacky vendors.
Of course the tickets for this event sell out in less than 1 minute at $400 a pop and will resell later for double to triple that price. All this value for the privilege of being in 100+ temperatures listening to music for 3 days in the desert.
There is a lot we all can learn from these "groupies."
Obviously, they are ardent fans of the type of music that is played at these venues. But there is more to it than that…
They are a destination; an event, the place to be and those that attend have bragging rights to the fact that they were there at the concert enduring the freezing temperatures or the blazing heat.
How can we get our patients to be such fans?

Here are my proposals on how we can make "groupies" of our patients:

1. Provide outstanding service and exceptional results.
My daughter and her friends love these bands because of the great music they produce. They would not endure the weather, the crowds and pay the high-ticket prices to listen to music they were not in love with.
Likewise our patients want the same thing from us. They want to experience exceptional service and receive extraordinary results. They want their smile to be incredible, their bite to function perfectly and their dental pain to be eliminated.

2. Become a "celebrity" in your area.

There are many ways to enhance your celebrity status without having to be on Dr. Phil or the Oprah TV shows!
You can write articles, blogs or even an entire book and give it out to your patients as a new patient gift. Your staff can talk you up about your accomplishments, your training and your awards and recognition even before the patient sees you. You can get interviewed on TV or radio or even hire a PR firm to help you get some local media attention.
It is not that hard to be the "expert" or "celebrity" in your local area. It takes effort and some focus on doing the right things that will get you crowned the "King" or Queen" of orthodontics
3. Provide an unforgettable experience in your practice.
My daughter and her friends endure extreme hot and extreme cold. Unforgettable, no doubt. That's the first thing they talk about when they get back home. The extreme weather conditions.
However, the conversation quickly reverts to how amazing the concert was and the music and the bands and the people and the……you get the point. The entire experience is what they are ultimately excited bout.
Unforgettable or memorable experiences are how the patient is treated once they are in your office. It is about getting back to the basics.
I know you have all heard this saying from Zig Ziglar, "People do not care how much you know until they know how much you care." It is so true!
It is about the human interaction, the little things you and your team do to make your patients feel special, welcome, listened to and ultimately loved.
This is how you develop patients into "groupies" and have a practice that is extraordinary in every way possible that is ultimately providing you and your family an epic life and making a huge and memorable impact on your patients' lives forever.