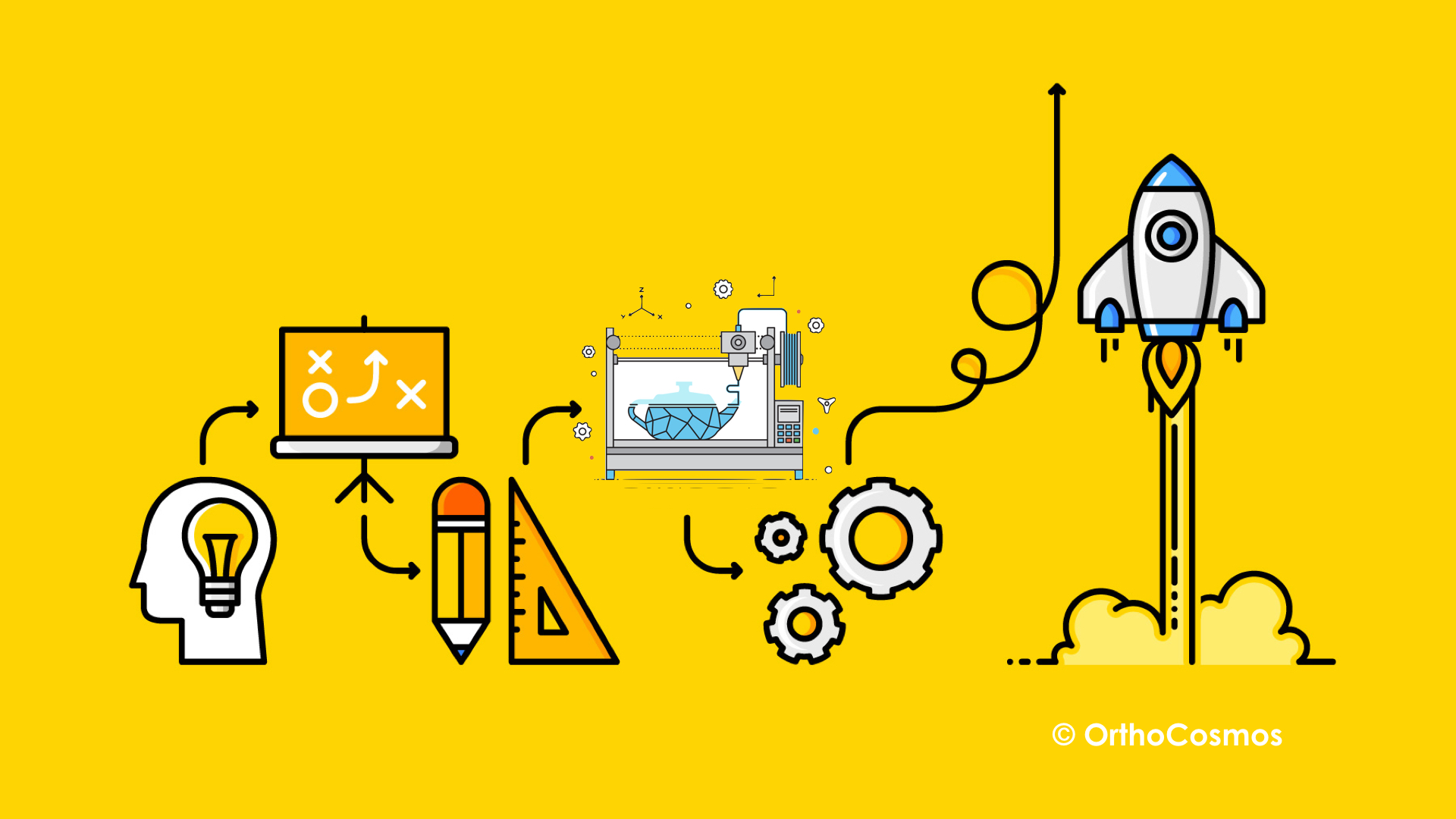 The Ford Production System paved the way for most modern lean manufacturing, and one of the best examples of lean manufacturing principles in action was the Willow Run B-24 bomber production facility during WWII. After intervention from Ford, the Willow Run Facility was able to go from producing just one bomber per day to one per hour. 24x their original output!
At the core of operational change was Ford's "pacing clock" which monitored what we now call Takt Time (Takt time originates from the German word Taktzeit, meaning clock interval). Takt time provides you with the pulse of your operations – the rhythm and rate by which tasks and products must be completed to meet demand. By monitoring and setting guidelines for this single figure, Ford was able to build a manufacturing facility which was able to produce the same as half of the entire German aircraft industry….
Today I am going break down what Takt Time is, how to calculate it, and how to apply it to allocate 3D printer assets and labor to keep your 3D Print Farm running smooth.
The calculation itself for Takt Time is actually quite simple….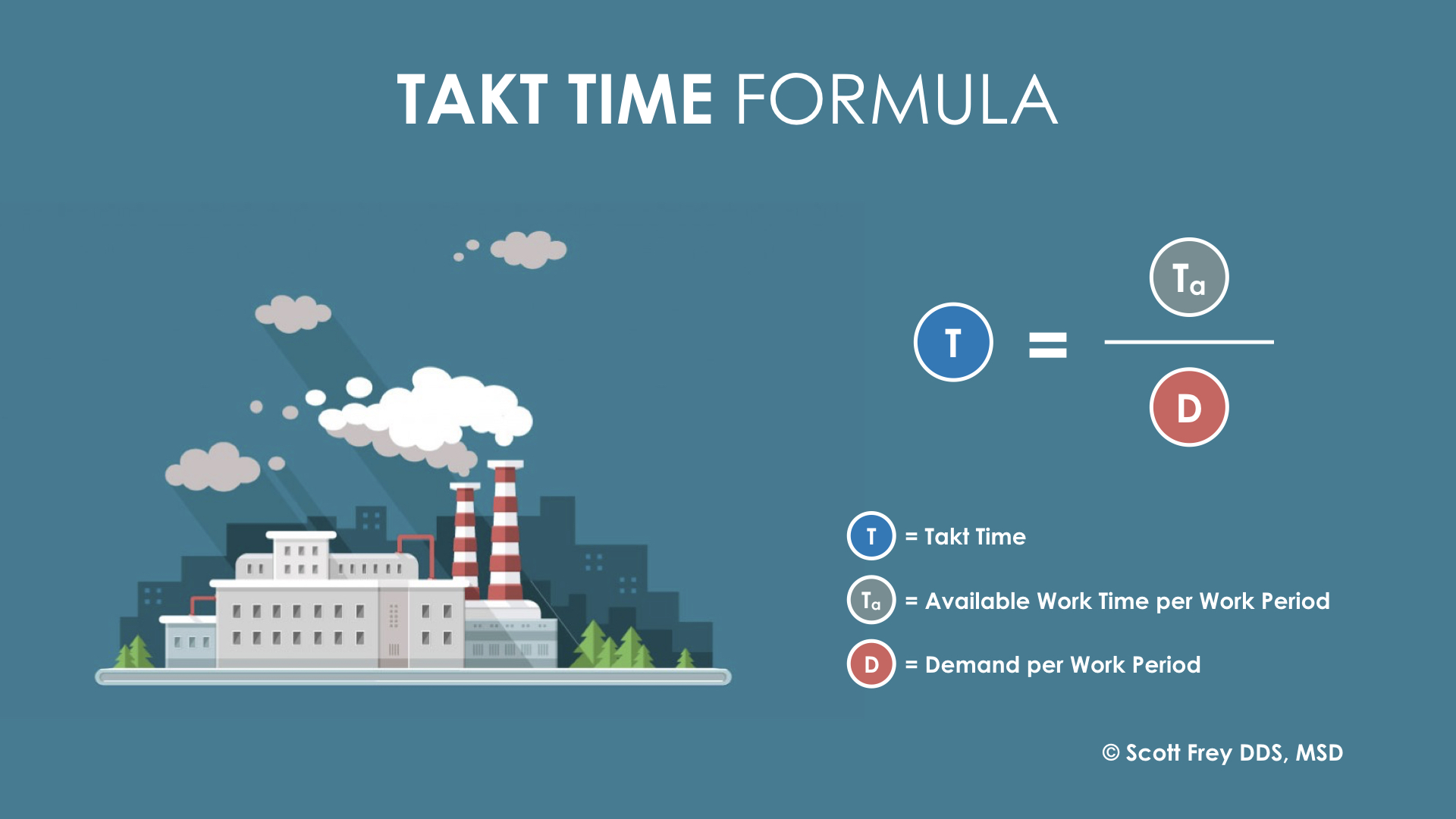 T = Ta / D

"T" represents Takt Time, which is the maximum time you have from starting one process until needing to start on the next in order to meet demand. This doesn't have to be a whole number, but the units you use should be the same as those for the "Ta" figure (minutes, hours, days, etc).

"Ta" shows the total available work time during a given work period. This figure can be confusing, but the important thing to remember when calculating it is that this should only include time when value is being added through work.

"D" represents the total demand for units during a given work period.
With this formula you can now easily determine the maximum time that it takes to produce a particular item in order to keep up with demand. It also allows you to identify bottlenecks within our overall operations by applying the concept of Takt Time to individual processes. However, in order for Takt Time to be both accurate and applicable, it is important to understand that there must be a few constants in the system being assessed.
Customer demand must be relatively constant over the work period
All requested products must be similar (or take the same amount of time to create)
Typically these constants aren't a problem for a simple system, where a singular product is being made. However, complex systems, tasks, and products involving multiple parts should be broken up into smaller cycles for Takt Time to be correctly applied.
One last aspect to mention before diving into an example is that of buffer time. Buffer time is a vital and often overlooked aspect of Takt Time calculations because there will always be problems that we can't predict. The key to making any process or calculation flexible enough to roll with the punches in the real world is to account for the unknown and allow for enough leeway to maneuver in case of disaster. Instead of planning for work cycles to be exactly the same as Takt Time, we should instead aim for them to be around 92-95% of that figure. The shorter your Takt Time, the larger your buffer time typically should be to ensure that you have sufficient wiggle room.
Now let's take a look at how we can apply all this to 3D printing operations in your digital orthodontic lab and determine how many 3D printers you will need to meet your production needs.
In order to do this, we must begin by also performing a calculation of the Cycle Time (the the length of time on average it takes to complete a step or set of steps within an operation) for each 3D printer you own or are considering purchasing. Since 3D printers can operate overnight without human supervision the easy way to perform this calculation is by dividing the Total Daily Throughput for a given printer by the Number of Minutes in a 24 hr Working Period. This will give us the following Cycle Times per model for several 3D printers commonly used in orthodontics: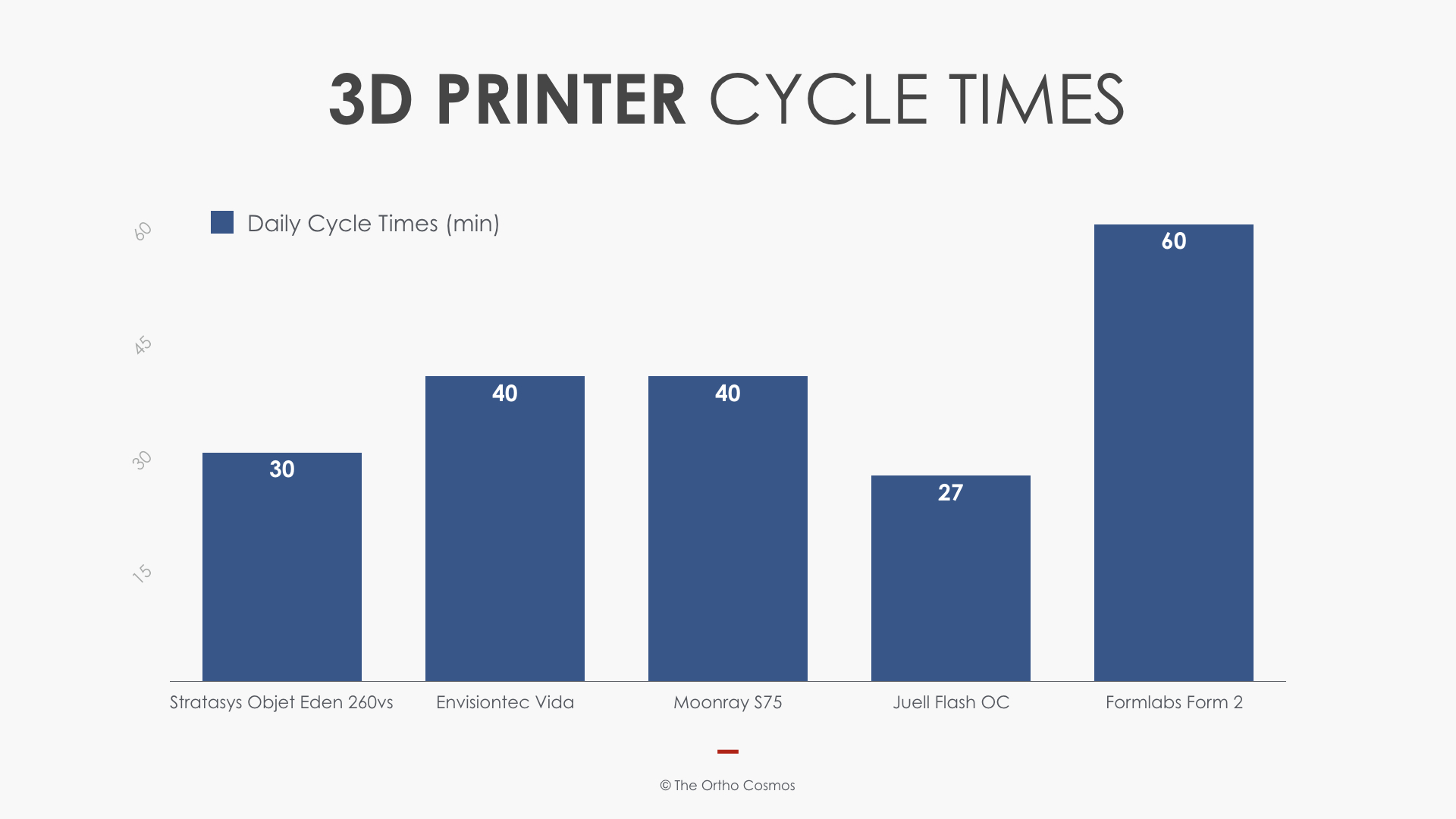 In order to meet monthly demand for model production these Cycle Times per model must be kept below the target Takt Time. If cycle times need to be reduced, additional 3D printing assets will need to be acquired. For each additional 3D printer that is purchased, Cycle Times will drop accordingly since daily throughput would increase.
So if for example we project that we need to print 1000 models each month and we have 3D printers that will be operational and printing for 18 days out of the month (convert over to minutes), how many printers will we need in order to consistently meet this demand level while allowing for 5% buffer time?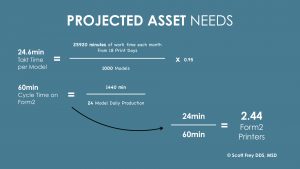 If we have a print farm consisting of Formlabs Form2 printers, a monthly output level of 1000 orthodontic models will require three Form2 printers.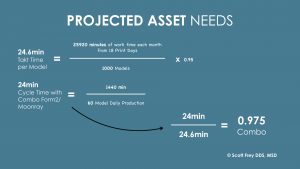 If we have a print farm comprised of both Form2 and Moonray 3D printers (this allows for a more customizable and modular print farm), one Form2 and one Moonray is sufficient to handle these printing needs. 
One of the most common rookie mistakes that I see people making when starting off with 3D printing workflows is using digital platforms in the same manner as the analog tools they have been using. Trying to scan and print same-day 3D models as though you were taking an impression and pouring up a set of models in plaster does not scale and is not how you should be implementing digital technology. Attempting to utilize 3D printers routinely for same-day models has a Takt Time of 28min and will artificially create huge demand that is difficult to handle. This workflow simply does not scale. What should be done instead is using digital tools as they are intended to save time and visits by manufacturing ahead instead of scrambling due to poor planning.
As you can see applying the concept of Takt Time is very useful for designing a 3D print lab based on lean manufacturing principles. Additionally, Takt Time can be just as easily applied to non-physical tasks (i.e. ClinChecks, IDB Set Ups, model processing, and other digital tasks) because it is a consistent measure of the rate of progress, much like keeping tabs on the heartbeat of your company. We have also examined how Takt Time affects your capacity to scale digital workflows with clear aligners.