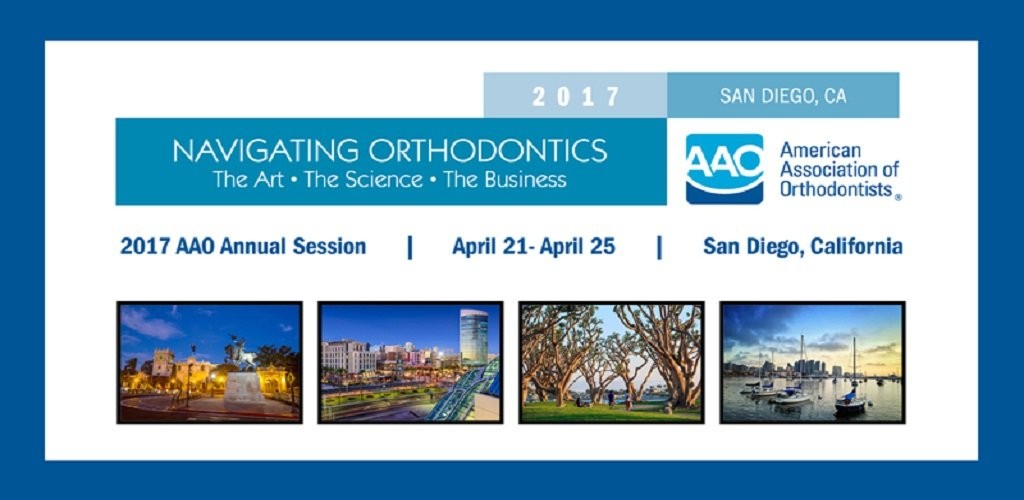 With the AAO kicking off today, we thought it would be worthwhile to give a quick run down of some of the things that caught our eye at the annual session this year. We don't have any formal posts planned over the weekend, but I'll be checking in throughout the session on Facebook to share interesting finds and updates. Hope to see you there!
New Products
Invisalign's Mandibular Forward Advancement (pending US release) – There will be a heavy Teen focus at the Invisalign booth this year, and for those of us looking forward to their functional aligner appliance there will definitely be additional information to prepare you for when it gets to the US.

Henry Schein's New Color Class II Motion Appliances – The 'Colors in Motion' are very cool and will be a lot fun for patients.

EasyRx – For those of you not familiar with this product, it is a really nice in-house service for coordinating 3D printing within your practice, and worth a look. They are rolling out the ability to do some processing of the models from within the Rx form so you will be able to in a few clicks add a base, hollow out the .stl files, label them, and queue them for printing at any location right from the cloud (no noodling around with MeshMixer).

Various 3D Printers & Software across the exhibit hall. Make sure you check our series of posts on 3D printing so you don't overpay and find the right machine for your practice needs.
In the Lecture Halls
Saturday 9-10AM: LeeAnn Peniche – BYOB: Be Your Own Brand

I have never used LeeAnn, but I have heard great things. Will be worth getting up early for.

Saturday 10:15AM: Hugo De Clerck – Rotations of the Maxilla and the Occlusal Plane: The Key to Successful Orthopedics

Will have some great information on what actual orthopedic effects on the maxilla look like, since most people are only familiar with protraction dogma.

Saturday 2:15AM: Rebecca Bockow  – Goal Oriented Treatment Planning with Corticotomy Facilitated Orthodontics

Not familiar with this speaker, but will try to swing by to check out the content. We should always be looking to modify gingival phenotypesto reach our treatment goals rather than treating to the pathology.

Saturday 3:00AM: Antonino Secchi – Leveling the Occlusal Plane to Solve Vertical Problems

I saw Antonio's topic and now I know why he was so impressed by my Invisalign lecture that he attended last year. Great guy!

Sunday 9:15 – 10:15AM: Maria Bailey – Millennial Moms: 202 Facts Marketers Need to Know

Unless you actually happen to be a millennial like myself, this should be a great talk to catch to help guide your understanding of how to connect with this generation of parents/patients.

Sunday 10:30 – 11:30AM: Chris Bentson – State of the Orthodontic Industry

Chris always has solid information.

Sunday 3:00PM: Mani Alikhani – Vibration and Perforation: What Do They Have in Common?

Vibratory stimuli are much harder to direct, but still a useful tool for bio-stimulation. If you are prescribing these types of interventions, it is good to examine the physiology behind them to better guide your judgement.

Monday 10:15AM: Branislav Vidovic – The Influence of Orthodontic Treatment on Facial Balance

This talk sounds like it might cover some similar concepts that I cover in my Soft Tissue Orthodontics courses so might be interesting to check out.

Monday 10:45AM: Chris Chang – Three Major Applications of Extra-radicular Screws

Chris has a very interesting practice and I always enjoy seeing him present.

Tuesday 9:00AM: Seung-Hak Baek – Surgery-First Approach for Skeletal Class III Patients

Even if you do very few surgical cases, everyone needs familiarize themselves with surgery first approaches. Much better for insurance approval, speed of treatment, and patient acceptance.

Tuesday 10:25AM: Jianyong Wu – Treatment and Post-Treatment Effects of a New Magnetic Palatal Expansion Appliance

If you are still hanging around on Tuesday, you might poke your head in and see what the appliance looks like. We definitely need a better range of options for expansion with more precise (and lighter) force levels that we can prescribe.