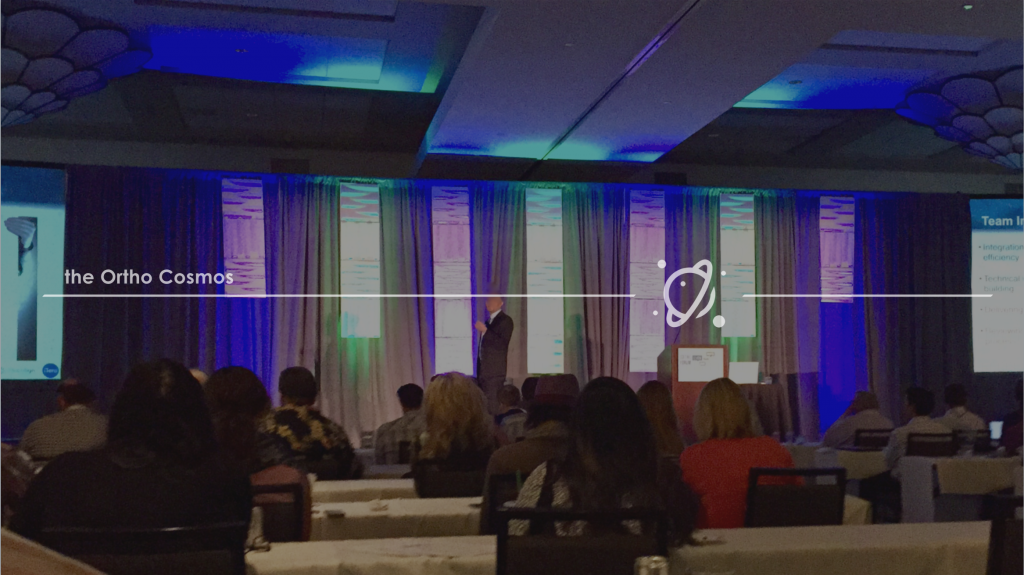 There is a lot of anticipation of all the great information available at the AAO meeting. Vendors will be launching their new thing, and a select group of presenters will rise above the fear of public speaking and put their information for all to view and critique. Being there myself, I can attest it takes many of hours of preparation to put a presentation together. Going public on a topic of interest, and speaking in front of a room of your peers takes a whole other skill and a lot of courage.
Facility with public speaking is not a gift granted at birth to a lucky few. It's a broad-ranging set of skills" – Chris Anderson, Author, TED Talks
Presentations are both an art and a science. At the risk of sounding like a presentation snob, have you thought about the things that make presentations memorable? The design, the delivery, and the subject are all critical. A presentation appeals to a classic form of human communication: Storytelling.
When you are sitting in the lecture hall listening to that next presentation. Think about the special tools that presenter put together to keep you entertained, and consider what made the lecture drive you to take action on what you learned.
The Passion
Charismatic speakers don't just happen.  The charisma that they instill into their presentation is often a result of the passion they hold for the subject matter they are presenting.  It is often palpable when a presenter is passionate about the message they are delivering to the audience.  Passion can surpass experience, since the audience can accept nervousness from the delivery for the fact that the presenter's message is delivered with compelling emotion.
The Length
My grandfather once approached his preacher after Sunday service and let him know he appreciated the sermon, "but", he said, "you did not talk about, what I wanted you to talk about." The preacher looked puzzled, and asked my grandfather: "What did you want me to talk about?" "About ten minutes", answered my grandfather.  So what is the right length of a presentation?  That depends on the subject matter, but if you take the TED stage as a consideration, they have limited presentations to 18 minutes. Some presentations are well suited for sixty minutes, but longer becomes more perilous.  Shorter presentations can be more challenging that longer rambles since it forces the presenter to distill the most critical information down to the maximum impact for most people to absorb that information.
The Slides
Ever wonder how much text should be on a slide? Most presentation coaches will recommend the less writing, the better.  Some presenters use the slides as a crutch to deliver the message which could be better received as a memo or a handout.  Text on slides distracts from the verbal message, and bores the audience.  Part of the art of presentation is putting great slides together that support the speaker's words, instead of replacing them.  The visual appeal of a presentation is a key component of the slides being a visual aid vs. a report on data.
Communication is about getting others to adopt your point of view, to help them understand why you're excited (or sad, or optimistic, or whatever else you are). If all you want to do is create a file of facts and figures, then cancel the meeting and send in a report" – Seth Godin, Author, Really Bad Powerpoint
These are a few areas that presentation gurus highlight as critical to an effective presentation. Next time you sit in the lecture hall, focus on not only the message from the speaker, but take a look at the skills they have set on display for delivering a message in front of all those attentive eyes and ears in the audience. You may notice that the most memorable lectures from this upcoming meeting truly deliver on the art form of storytelling.